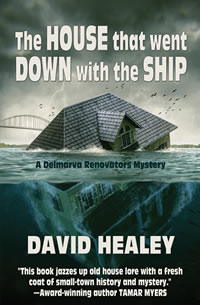 David Healey book signing
Saturday, 10 a.m. to 2 p.m.
The Old Gray Mare Gift Shoppe
17 Bohemia Ave.
Chesapeake City
Read more about David and the backstory of his new book at:
www.cecildaily.com

book details >>>
read the first chapter
larger view of cover
buy the book
Trade Paperback Original
Retail: $14.95US; 216pp
ISBN 978-1-62268-028-3 print
ISBN 978-1-62268-029-0 e-book
LCCN 2013942415
Cover illustration by Nick Deligaris www.deligaris.com
THE HOUSE THAT WENT DOWN WITH THE SHIP
— A Delmarva Renovators Mystery
Author: David Healey

"A man builds a fine house; and now he has a master, and a task for life: he is to furnish, watch, show it, and keep it in repair, the rest of his days."
—Ralph Waldo Emerson
---
Bats in the attic and a body in the wall ...
Delmarva Renovators has come to Chesapeake City on Maryland's Eastern Shore to return the faded Captain Cosden house to its former glory for the latest installment of its online home improvement show.
At first, the colorful houses and unique history of the old waterfront town on the Chesapeake and Delaware Canal seem like the perfect setting. But in addition to leaky pipes, bats and crumbling plaster, the cast and crew soon encounter more than what's on their punch list when a mummified body tumbles out of a wall. The discovery unleashes a new series of killings as someone sets out to settle old grudges.
With the renovation project at a halt and the future of Delmarva Renovators in jeopardy, it's up to the show's producer and renovator extraordinaire Tom Martell to solve the long-ago murder and stop whoever is killing to avenge old wrongs.
"Anyone who has fixed up an old house or who loves old houses will find reading this mystery, set on Maryland's Eastern Shore, much more enjoyable than actually having to patch plaster walls and repair old windows themselves. This book jazzes up old house lore with a fresh coat of small-town history and mystery."
—Award-winning author TAMAR MYERS

"David Healey peoples his novel with fully fleshed characters—putting them in a setting on Maryland's Eastern Shore you just know has to be real—as he builds suspense over the discovery of a decades-old body in the wall of a house the main character, Tom "Hammer" Martel and his crew are renovating. Along the way, too, you learn a lot about the work that goes into renovating an historic old house. He does all of this with an easy writing style and sly touches of wry humor."
—JOE TERRELL, author of Not Our Kind Of Killing, a Harrison Weaver mystery

About the Author >>>
David Healey is the author of several novels and nonfiction books, including Sharpshooter and 1812: Rediscovering Chesapeake Bay's Forgotten War. A graduate of Washington College and the Stonecoast MFA program, he enjoys working around his old house and has been known to drive his family crazy by making frequent stops to read historical markers at the side of the road.
author website: www.davidhealey.net
THE HOUSE THAT WENT DOWN WITH THE SHIP
—A Delmarva Renovators Mystery
Author: David Healey
Trade Paperback Original
Retail: $14.95US; 216pp
ISBN 978-1-62268-028-3 print
ISBN 978-1-62268-029-0 e-book
LCCN 2013942415
read the first chapter
book details
larger view of cover
buy the book >>>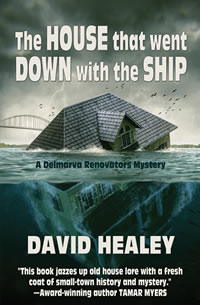 To purchase from your local independent bookseller click here:


Purchase at amazon.com


Purchase at barnes&noble.com


Purchase at booksamillion.com:


NOTE TO BOOKSELLERS:
All Bella Rosa Book titles are available through
Ingram, Baker & Taylor, Brodart Company, Book Wholesalers, Inc. (BWI),
The Book House, Inc., and Follett distributors.

Booksellers, Schools, and Libraries can also purchase
direct from Bella Rosa Books.
For quantity discounts contact sales@bellarosabooks.com .