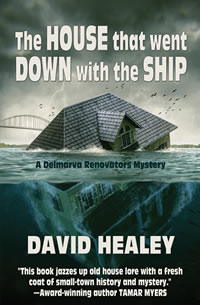 David Healey book signing
Saturday, 10 a.m. to 2 p.m.
The Old Gray Mare Gift Shoppe
17 Bohemia Ave.
Chesapeake City
Read more about David and the backstory of his new book at:
www.cecildaily.com

read the first chapter >>>
book details
larger view of cover
buy the book
Trade Paperback Original
Retail: $14.95US; 216pp
ISBN 978-1-62268-028-3 print
ISBN 978-1-62268-029-0 e-book
LCCN 2013942415
Cover illustration by Nick Deligaris www.deligaris.com
THE HOUSE THAT WENT DOWN WITH THE SHIP
— A Delmarva Renovators Mystery
Author: David Healey
"A man builds a fine house; and now he has a master, and a task for life: he is to furnish, watch, show it, and keep it in repair, the rest of his days."
—Ralph Waldo Emerson
---
Chapter One
Later that morning, after we found the body, I realized that the sight of such a long-dead person didn't bother me all that much. Working on an old house, you have to be prepared for just about anything. Sparking wires. Bats. Leaky plumbing. Bodies. And did I mention the flying tools?
"Heads up!"
I barely had time to shout a warning before Mac's hammer sailed through the dining room to punch a hole in the plaster wall. A fine powder drifted up and horsehair bristles sprouted from the edges of the hole. I sighed. One more job for the renovation list.
"Son of a moth-eaten whore!" Mac waved the thumb he had smashed moments before with the offending hammer. "That's the second time today."
"Maybe you ought to wear your glasses," I suggested, motioning at our cameraman, Iggy, to take a break.
"What kind of TV show carpenter wears glasses?" demanded Mac, who was now holding his throbbing thumb and doing a kind of jig across the dusty floor. The house shook under his weight.
"The kind who doesn't whack his thumb," I said.
Robert "Mac" MacDonough was six foot four, built square and solid as a refrigerator, and there are firecrackers with longer fuses. When Mac gets mad, I've seen him pick up cinder blocks and hurl them like horseshoes.
Once, I watched Mac toss three guys out a window at a construction job when they tried to pull a fast one with some shoddy work—lucky for them we were only on the first floor. Working with Mac, I had learned better than to provoke him, and I was proud to say he hadn't flung me out any windows yet.
I'd known Mac for twenty years, ever since we'd been thrown together as college roommates. In fact, it was Mac who had given me the nickname when he learned that my last name—Martell—meant "Hammer" in French. Back then, the nickname had more to do with how many beers I could chug, but I had developed new skills in the intervening decades. Mac and I even got our introduction to home improvement together, working for contractors every summer to earn our beer money. I had gone on to a career in magazine editing and Mac had become a builder. Both of our careers had evaporated in the Great Recession, and now we were back together, producing our own on-line home improvement show based on the Delmarva Peninsula, that long spit of land between the Chesapeake and Delaware bays that was a world unto itself.
Mac was more than a little nearsighted, but I couldn't get him to wear his glasses while we were filming. Maybe it was simple vanity or maybe, like me, he didn't want to admit that we weren't as young as we used to be. One of these days he was going to cut off something important, and then he'd be sorry. Depending on what he was holding at the time, we all might be.
Mac was much better at acts of brute strength than he was at carpentry. He served as our licensed contractor. He was good at threatening and cajoling lazy subcontractors into getting the job done right. He was also currently the acting star of our show, Delmarva Renovators. Maybe you've seen the Web cast? Our real star had disappeared in the middle of our first big rehabbing project. She hadn't quit—it wasn't like Jenny Cooper to quit anything—but she had made some vague excuses about "some business to take care of" and said that she needed some time off. It was no small coincidence that her departure had come shortly after a late-night editing session had wound up with Jenny in my bed. So far, nobody else knew about our little tryst, and I was trying hard to keep it that way.
"Okay, when the crew comes back, I want to explain exactly what you're doing," I said.
"What am I doing?"
"Anything but whacking your thumb. For starters, see if you can pry off some of that molding. We want to save as much of the original woodwork as we can."
The molding around the doors and windows was more than five inches wide, with lovely rosettes in all the corners. Replicating it would cost us time and money, and we were already over budget. It had to come off so we could access the antique pocket doors. There was no way to do the work short of taking down the wall, which was going to be a messy and time-consuming job that threatened to put us even further behind schedule, short-handed as we were.
Our project was a waterfront four-square house in the historic district of the small town of Chesapeake City on Maryland's Eastern Shore. The house had more problems than a stray cat has fleas, but it was also a gem deep down, which made it perfect for our inaugural show.
Built in 1913, the house had been home to six generations of the Cosden family before being sold to a couple who had made a bundle running a service franchise on the Western Shore—which was how local people referred to anything on the other side of Chesapeake Bay, as if it were a slightly foreign country, like Canada. A lot of Cosdens still lived in Chesapeake City, and it rubbed them the wrong way that the home of their patriarch, Captain Ezra Cosden, had gone to outsiders from the D.C. suburbs. Some of the extended family had even taken to hanging around and watching the progress on the house with the same mournful expressions on their faces that Confederate veterans must have worn for the surrender at Appomattox. You would have thought the Cosdens would be grateful we were preserving their family home, but they seemed more concerned that some of the family history was going to be tossed into the industrial-sized Dumpster out front on Third Street.
Amazingly, the house had gone nearly untouched for most of its long history. There was indoor plumbing, electric and a furnace, but that was almost the only concession to modern conveniences. Not that any of those systems were in great shape. The plumbing consisted of leaky copper tubing and there wasn't so much as a single vent pipe. The electrical system was a spaghetti bowl of modern wiring cobbled to downright scary knob and tube, an early form of wiring that resembled an electric fence inside the walls and ceilings. It was a wonder the house hadn't burned down by now. The furnace, converted from a coal-burner, was the size of a locomotive and slathered in asbestos. Every time that behemoth clicked on, I was sure that a small oil well somewhere in the world ran dry.
No air conditioning, no insulation. Definitely no new roof in the last four decades. On windy days, bits of crumbling slate shingles rained down on the lawn. Termites. A colony of bats lived in the attic. Evicting them had made for great video, although some of the leathery winged residents stubbornly refused to leave.
Over the years, the Cosdens had attempted a few home improvements, all of which we were having to undo. Every wall was blanketed in multiple layers of old-fashioned wallpaper. Nearly every ceiling had been covered with asbestos tiles. The reason for that became clear when we pulled away the tiles to discover that the plaster ceilings were sagging away from the lath beneath. In the single bathroom upstairs, some trendy Cosden in the 1970s had stuck down adhesive-backed squares of lime-green shag carpeting around the original claw foot tub. All of it—the wallpaper, the ceiling tiles, the sagging plaster, the shag—had to go.
The good news was that under those cosmetic nightmares, the house was solid and filled with fine details. Truly, it was a lovely old home. Two sets of pocket doors with the original brass hardware slid out to enclose what had been the living room. The cast iron radiators featured intricate scroll work that our interior designer, Marsha LaRue, planned to highlight with a fine brush so that each radiator was like a work of art. The staircase still had its original coat of shellac, having been spared the paintbrush. The crowning feature of the house was a widow's walk where in decades past the Cosdens could literally watch for their father's ship to come in. And the view of the Chesapeake and Delaware Canal was to die for.
Four-squares were the ranch houses of the early 1900s, a popular and economical building style for the time, though Captain Cosden's was built on a grander scale than most. They took their name from their design—almost always square, sometimes rectangular on a small lot (like the Cosden House). The yard was small, but Captain Cosden had been a Chesapeake Bay captain, not a gardener. Four-squares were so named because they had four rooms downstairs—foyer, living room, dining room, kitchen. Most had three or four bedrooms upstairs. Our project house had three, not counting the bath that was big as the smaller bedroom, plus a large walk-up attic that functioned as an unfinished third floor. Completing the attic—and evicting the bats for good—was part of our plan. Finally, like all other four-squares, the Cosden House had a hip roof, but with a leaky dormer in each side. Add them to the renovation list. It was the job of Delmarva Renovators to update the Cosden House for the twenty-first century while keeping the best of the early twentieth, all for the entertainment and edification of our on-line viewers.
Trouble was, we were running out of time. The new owners were planning a big housewarming party in late June during the town's annual Canal Day street festival. We'd had six months to get the job done and we were already deep into the fifth. They were footing the bill for the renovation work, but we were perilously close to being over our budget of two hundred thousand dollars. The money went toward materials and subcontractors. The homeowners were essentially getting our labor for free. Our only paycheck came from the revenue provided by Delmarva Renovators. And that was pretty skimpy so far.
According to our contract, the homeowners weren't obligated to give us a single nickel—or a single day—beyond what we had agreed upon. Short of a miracle—and the reappearance of our charismatic host and master carpenter—it was going to be hard to come in within budget and on schedule. People watched home improvement shows partly because the race-against-time created drama and suspense. Our show was never going to get off the ground if our first full-house project didn't have a happy ending.
Iggy came back with a tall cup of coffee and our gofer, Kat, in tow. They made an interesting study in contrasts. Kat was maybe nineteen and had what appeared to be the contents of half a jewelry store glittering from her ears, eyebrows, nose and lips—and God knows where else. Tall and skinny, Iggy was vague about his age, but he looked somewhere between thirty and fifty, judging from the strands of gray mixed with the long black hair of his ponytail. He wore black boots, black jeans, a black silk shirt and oversized, wrap-around eyeglasses like Bono. But Iggy was no poseur. He was good with a camera and fearless, willing to crawl into the darkest crawl space or balance on a windy rooftop. Sometimes, I thought Iggy might follow the action into hell itself if need be.
He gave his ponytail a shake, then took a big swig of coffee. I used to think of myself as a caffeine junkie until I met Iggy. His Adam's apple bobbed up and down as he swallowed—make that gulped-the coffee. "So, what are we doing?"
"Trim molding," I said. "Mac is going to show us how to salvage it."
"Okay." Iggy reached for his camera. He had another camera set up nearby on a tripod so that he could cut back and forth between angles. Kat rigged up one of the umbrella lights. Mac shook out his sore thumb one last time. Then he got down on one knee next to the wall with the pocket door. He was working in the corner where the dining room wall concealing the pocket door met the structural interior dining room wall at a right angle.
"Tell us some of the history behind the wood, Mac," I prompted. "The saw mill, remember?"
He nodded and our gofer handed him a molding bar and a hammer. "Hit yourself with that again and we're going to make you sit in the truck the rest of the day," she warned.
"I'd like to see you try and make me, girlie girl."
"Happy thoughts, everybody," I said. "Go."
Mac scowled at the camera. "What we're going to do now is—very carefully—pry off some of this molding so that we can reuse it once we're finished working on the new wall." He held up what looked like a smaller, more elegant version of a crow bar and Iggy zoomed in on it. "We'll be using this tool here, which is commonly called a pry bar. Look at the shape of it—the flat end here slides under trim molding to pull it away from the wall with as little damage as possible. It's for prying with a light touch." He pointed to the other end. "For those stubborn nails, there's also a notched tip to pull them out."
Mac went on: "Now, why bother with the molding? First off, you're not going to find a hardware store that carries anything like this. Close, but it won't have the width we need. So we want to save it. It's in pretty good shape. Second, this molding has some historical value because, like all the lumber in the house, it was actually produced at a saw mill that once stood about a hundred yards behind the house. Years ago, they used to float logs from Pennsylvania down the Susquehanna River into the Chesapeake Bay, then on to the canal, which is why the saw mill was located on the waterfront. That saw mill disappeared when the U.S. Army Corps of Engineers widened the canal in the 1920s, so it's not like we can go back in time and get more wood."
I nodded encouragement. He was doing fine. Mac worked the molding bar under the trim and was tugging to loosen the nails that held it to the door framing. Iggy zoomed in with his hand-held camera. One by one, the nails popped free, some of them sounding loud as gun shots.
The last couple of nails were stubborn. A bit more finesse might have done the trick, but this was Mac we were talking about. The big veins on the side of his neck stood out like cables as he strained to make the nails release their grip.
"Just a little more," he said for benefit of the camera.
The molding gave way with a rending shriek. The piece of trim seemed to explode off the wall. Mac went flying backwards, fending off wood and plaster with a big forearm. His full weight hit the dining room wall behind him. An ominous cracking sound followed. He threw up his hands to protect his head as a large section of sand plaster wall collapsed.
"Mac!" I cried, but I quickly saw that the plaster wasn't heavy enough to do any real damage and that he wasn't hurt. My concern soon changed to annoyance that Mac's clumsiness had just created another major job for us when we were already behind schedule. Having both walls come down at once was definitely not part of the script. Iggy bent over the camera, protecting it as best he could while trying to shoot despite the swirling dust. There was nothing so messy on a rehab job as demolished plaster. It coated everything with a powder fine as talcum. Silently, I said a prayer of thanks that we hadn't yet refinished any of the floors in the house or even put on a coat of paint.
Choking and coughing, Mac sat on the floor, covered in crumbled sand plaster. He looked like he'd been rolled in flour. He still clutched the molding bar. The salvaged trim molding lay across his knees. When the lath and plaster gave way, a bundle of rags about half as big as Mac had come tumbling out of the wall. It now lay on the floor beside him.
"What's that?" Iggy said.
We all took a step closer. As the swirling cloud of debris cleared, the bundle began to take on shape. Mac swept some crumbled plaster off the rags and it became clear that the rags were, in fact, a very dusty suit.
And at the top of the suit was a mummified face.
Like a huge dried apple with deep-set eyes, the face stared back at us. If I hadn't known better, I would have sworn the corpse had an angry expression. The lips had shrunken to reveal teeth the color of old ivory, caught in an eternal scowl that somehow looked familiar. Wisps of brown hair fell down over the mummy's face.
That was the moment that our decorator chose to walk in. Marsha LaRue took one look at the grinning corpse on the floor, its head nearly in Mac's lap, and let out a scream that rattled the old windows in their frames.
Iggy's camera was rolling the whole time. "Ladies and gentlemen," he said. "I'd call that a wrap."

copyright©2013 David Healey