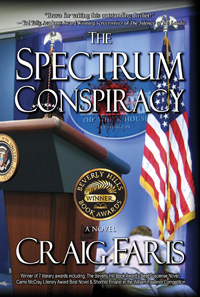 synopsis >>>
read an excerpt
cover detail
buy the book

NEWS!
The Spectrum Conspiracy wins second place in MARSocial's book trailer competition.
Author Website:
www.craigfaris.com
THE SPECTRUM CONSPIRACY
Author: Craig Faris
Trade Paperback Original

ISBN 978-1-62268-017-7 print
ISBN 978-1-62268-018-4 e-book
LCCN 2012954785
6"x 9" Trade Paperback; 372pp; Retail $17.95US
---
Best Suspense Novel, Beverly Hills International Book Awards
Finalist in the Killer Nashville's 2014 Silver Falchion Award
Short-list Finalist, William Faulkner Pirates Alley competition
Best First Novel, Carrie McCray Literary Award.

"Wow, what a book! It's a wild, white-knuckle ride, pedal to the metal right from page one, never letting up. A very impressive novel in ambition and scope, with intricate plotting, relentless pacing, action-filled, with technical and procedural details that bring authenticity to the story. Bravo for writing this outstanding thriller!"
—Ted Tally, Academy Award Winning screenwriter of
The Silence of the Lambs
---
Synopsis
The Spectrum Conspiracy is a complex political thriller that has the ticking clock intrigue of Angels and Demons and the fast-paced thrills of A Clear and Present Danger.
Devrin Crosby, is a suspended, but brilliant FBI agent, and a former alcoholic. He has a partner he can't stand, who is dating the only woman he's interested in, and a boss who is giving him one more chance. Crosby starts looking into irregularities in the "official" investigation of the President's assassination. Everyone is convinced that the culprit is dead, but Crosby begins to uncover clues of a far more sinister plot.
A powerful government entity is using a covert operation called, Project Spectrum, to build a highly unstable thermonuclear weapon to sell on the black market as a Trojan Horse. Unaware of the weapon's instability, their terrorist clients would store it at their most secure facility; possibility the same location where other weapons of mass destruction are kept. But the scheme backfires when the weapon is stolen and hidden in Washington, DC.
Crosby and his partners are thrown into a race to save our nation's capitol from not only the thieves, but also government thugs, who are bent on protecting their ultimate anti-terrorist weapon, and the fact that they assassinated the President to keep him from exposing their ultimate anti-terrorist scheme.
The clock is ticking, no one is listening, and in order to save thousands of lives, Crosby will have to lose his best friend.