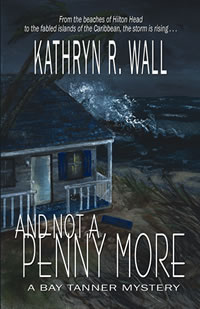 larger view of cover
buy the book
read the first chapter
book details
AND NOT A PENNY MORE — A Bay Tanner Mystery
Author: Kathryn R. Wall
Reissue Edition
5.5"x8.5" Trade Paperback
$14.95US; 296pp
ISBN 1-933523-15-8

In the second installment of the Bay Tanner mysteries, Bay is plunged into the world of international intrigue when old school friend Jordan von Brandt returns to South Carolina to bury her mother. Widowed socialite Leslie Herrington is found dead in her South American hotel room. Natural causes, the local authorities say. Murder insists her estranged daughter, who sets out on a campaign to enlist Bay's help in proving it. Lined up in opposition are Jordan's brothers, especially Trey—the perpetually broke but charming Hollywood hanger-on—who desperately needs the estate settled quickly.
Bay resists becoming involved until she accidentally stumbles across a bizarre Web site that seems to support Jordan's suspicions. Could her old school friend be right? Was Leslie Herrington only the latest victim of a cunning and vicious killer? Suddenly Bay finds herself sucked into a vortex of undercover Interpol agents, the glittering highlife of the moneyed elite, and the twisted mind of a monster. And over this backdrop of extortion, theft, and betrayal hang the frightening shadows of Bay's own past and the looming threat of a killer hurricane.
All around her, from the beaches of Hilton Head to the fabled islands of the Caribbean, the storm is rising.

Reviews:
"A deft blend of Lowcountry intrigue, romance, and manners, propelled by a high-speed plot and a strong-willed and sexy heroine."
—Les Standiford
"Compelling mystery captures the Lowcountry…not only a good Hilton Head novel, but a good novel, period."
—Island Packet (Hilton Head Island)
"…rife with intriguing characters, rippling with surprise revelations, laced with wit and humor, anchored by a strong, fascinating heroine…"
—Lowcountry Weekly (Beaufort, SC)

About the Author:
Kathryn R. Wall wrote her first story at the age of six, then decided to take a few decades off. She grew up in a small town in northeastern Ohio and attended college in both Ohio and Pennsylvania. For twenty-five years she practiced her profession as an accountant in both public and private practice. In 1994 she and her husband Norman retired to Hilton Head Island.
Wall is Treasurer of the Southeast Chapter of Mystery Writers of America and is National Publicity Chair of Sisters in Crime. She is also a founding member of the Island Writers' Network.
She is the author of six Bay Tanner mysteries: In For a Penny, And Not a Penny More, Perdition House, Judas Island, Resurrection Road, and Bishop's Reach. All the novels have achieved both commercial and critical success, and all take place in and around Hilton Head Island and the surrounding South Carolina Lowcountry.
visit Kathryn online at: www.kathrynwall.com

AND NOT A PENNY MORE
Author: Kathryn R. Wall
Reissue Edition
5.5"x8.5" Trade Paperback
$14.95US; 296pp
ISBN 1-933523-15-8
larger view of cover
buy the book
read the first chapter
book details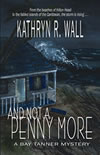 To purchase from your local independent bookseller click here:


Purchase at amazon.com


Purchase at barnes&noble.com

Purchase at booksamillion.com:


Or you may order direct from Bella Rosa Books using PAYPAL.
$15.00 Includes shipping & handling worldwide.
Click the button below to begin the order process.
BOOKSELLERS:
All Bella Rosa Book titles are available through
Ingram, Baker & Taylor, Brodart Company, Book Wholesalers, Inc. (BWI),
The Book House, Inc.

Booksellers, Schools, and Libraries can also purchase
direct from Bella Rosa Books.
For quantity discounts contact sales@bellarosabooks.com .