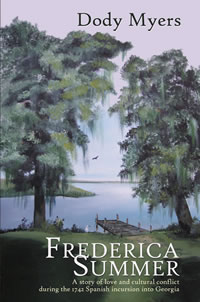 ISBN 0-9747685-4-5
LCCN 2004113051

read the first chapter
buy the book
Trade Paperback Edition
also available
ISBN 1-933523-00-X
$14.00
cover art by Joyce Wright
www.artbyjoyce.com
FREDERICA SUMMER
A story of love and cultural conflict during the 1742 Spanish incursion into Georgia.
Author: Dody Myers
Publisher: Bella Rosa Books
6" x 9" Hard Cover w/dust jacket
Retail $26.95US
Dody Myers' latest historical novel is an inspirational story of courage, love, and faith.
FREDERICA SUMMER, set in 1742 Georgia, is rich with characters drawn from history, the lore of the Golden Isles, and Myers' vivid imagination.
Tabitha Plummer leaves her Creek mother and village to celebrate her birthday with her English grandparents in Savannah, Georgia. When disaster strikes Tabitha is placed in the home of a wealthy family at Frederica as an indentured servant. She realizes she must forge a new life for herself and embraces the white world and the Christian faith. She never imagines that someday she will be forced to choose between two cultures and her love for two men—Broken Arrow of the Cherokee Nation and Ian MacDonald, a Scots Highlander from Glencoe, Scotland.

After leaving Scotland for the promise of free land in Georgia Ian MacDonald takes service with a Savannah clockmaker and becomes secretly engaged to Charlotte Brunner, the clockmaker's beautiful daughter. But Charlotte's disapproving father arranges to have Ian shanghaied and shipped to Darien, Georgia where he joins an elite company of Scots Highland warriors.
When Spanish forces mount an offensive against British held Georgia, the Carolinas in their sights, the Highlanders join General Oglethorpe at Fort Frederica to help stem the tide. The ensuing battle changes Ian's life forever as he is forced to confront death, his prejudice against Indians and his growing attraction for Tabitha with her mixed-blood heritage.
Tabitha finds herself in love with the Highlander but he talks openly of his commitment to Charlotte and his plan to return to Savannah to claim her. Tabitha's dilemma grows when she leaves Frederica to act as an interpreter for General Oglethorpe and returns to the Indian village of her childhood with Broken Arrow as her guide. Broken Arrow offers Tabitha marriage although he knows she loves another.
Should she remain in the white man's world and a love denied or return to her Indian heritage and a promise of love?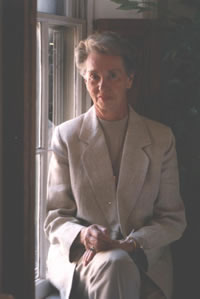 Author Bio:
Dody Myers is the author of five historical novels. Once again with FREDERICA SUMMER she blends historical fact and real people with fictional characters to put a human face on our past.

Myers currently divides her time between Chambersburg, Pennsylvania and St. Simons Island, Georgia.


You can contact her at: dody@innernet.net

Author Website: www.dodymyers.com

Appearances:
Aug 30th -- Corn Festival, Shippensburg, Pa.
Sept. ist -- Drummer Boy Campground, Gettysburg, Pa
Sept. 7th -- Mystery Book Shop, Mechanicaburg, Pa.
Sept. 9th - Weis Market, Chambersburg, Pa.
Sept. 20 -- Waldenbooks, Chambersburg, Pa.
Nov. 3rd --Weis Market Open House, Chambersburg, Pa.
Nov. 6th -- Menno Haven Christmas Show, Chambersburg, Pa.
Dec. 3rd. -- Snider's Feed Mill, Greensburg, Pa.
FREDERICA SUMMER
Author: Dody Myers
Bella Rosa Books
6" x 9" Hard Cover w/dust jacket
Retail $26.95US; 260pp
ISBN 0-9747685-4-5
LCCN 2004115959
Trade Paperback Edition
also available
ISBN 1-933523-00-X
$14.00US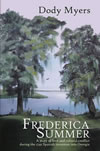 To purchase FREDERICA SUMMER
from your local independent bookseller click here:


Purchase at amazon.com


Purchase at barnes&noble.com

Purchase at booksamillion.com:


Or you may order a copy of FREDERICA SUMMER direct from BellaRosaBooks using PAYPAL.
$27.00 Includes shipping & handling worldwide.
Click the button below to place your order.
Or contact us at sales@bellarosabooks.com .
BOOKSELLERS:
All Bella Rosa Book titles are available through
Ingram, Baker & Taylor, Brodart Company, Book Wholesalers, Inc. (BWI),
The Book House, Inc., and Parnassus distributors.
Booksellers, Schools, and Libraries can also purchase
direct from Bella Rosa Books.
For quantity discounts contact sales@bellarosabooks.com .
---