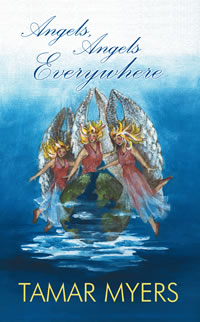 read the first chapter
buy the book

cover art and interior graphics
by Joyce Wright
www.artbyjoyce.com
ANGELS, ANGELS EVERYWHERE
Author: Tamar Myers
2004 Reissue Edition by Bella Rosa Books
5"x 8" Trade Paperback, 112 pages
Retail $7.95 US
ISBN 0-9747685-3-7

Many people believe that everyone is assigned at least one guardian angel at birth. Some claim to have seen their guardian angel, often after or during a traumatic event where the angel provided assistance or succor.
This inspiring collection of short stories was obtained by Tamar Myers whose nine year old daughter had a celestial experience after being critically injured.
These stories will enchant and delight young and old readers alike with fascinating nonfiction accounts of children being aided by their guardian angels.


ANGELS, ANGELS EVERYWHERE
Author: Tamar Myers
2004 Reissue Edition by
Bella Rosa Books
5"x 8" Trade Paperback
Retail $7.95 US; 112pps
ISBN 0-9747685-3-7
back to book details
read the first chapter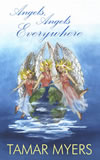 To purchase ANGELS, ANGELS EVERYWHERE
from your local independent bookseller click here:


Purchase at amazon.com


Purchase at barnes&noble.com

Purchase at booksamillion.com:


Or you may order a signed copy of ANGELS, ANGELS EVERYWHERE
direct from BellaRosaBooks using PAYPAL.
$8.00 Includes shipping to anywhere, worldwide.
Click the button below to place your order.
BOOKSELLERS:
All Bella Rosa Book titles are available through Ingram and Baker & Taylor distributors.
Booksellers can also purchase directly from Bella Rosa Books.
For quantity discounts contact sales@bellarosabooks.com .
---