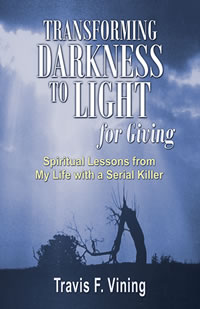 First Edition
5"x8" Trade Paperback
Retail: $14.95US
ISBN 978-1-933523-47-7
LCCN 2011937300
Also available as ebook
eISBN 978-1-933523-46-0

larger view of cover
chapter one
buy the book
book details >>>
TRANSFORMING DARKNESS TO LIGHT, for Giving
—Spiritual Lessons from My Life with a Serial Killer

Author: Travis F. Vining

---
Travis Vining is the "real deal". His faith is profound and his teaching in this book could change your life and the lives of everyone you know. Read it! You'll "rise up and call me blessed" for having recommended it to you.
—Steve Brown, professor at Reformed Theological Seminary, Orlando;
author and teacher on Key Life, nationally syndicated radio program
---
My father is a serial killer. I was his confidante as he planned and committed several murders. He enjoyed telling me about them. He also used me to help destroy evidence.

Is it possible to make sense of what we perceive as tragic and unforgivable events in our lives? What could murder, pain, suffering and insanity possibly have to do with peace, freedom and a loving God? And the even bigger more personal question that many of us ask ourselves when tragedy strikes our lives is why me? The answers to these questions may surprise you.

This is a true story about a father and his son. It is about a journey through hell that led to heaven. It is about faith, miracles, courage, forgiveness and overcoming tragedy. It is about the freedom that can always be found in our darkest moments. It is about how to get there . . . from here.

About the Author:
Travis F. Vining is an inspirational and educational Spiritual Teacher who lived the real-life horrors of learning his father was a serial killer. In a search for the Truth, this nightmare became an inspirational journey of faith, hope and miracles.
The former travel executive now speaks to dozens of groups a year, detailing his experience with his father and the spiritual journey that followed, allowing him to turn the liabilities of his childhood and early adult life into one of his greatest assets. He also teaches A Course In ForGiving and facilitates intensive healing retreats that focus on family of origin issues.
Now a loving husband and father, he has found forgiveness, love and absolute faith and has devoted his life to helping others overcome these same difficulties. He lives in the Orlando area with his wife and daughter.
His website is www.victorythroughpeace.com.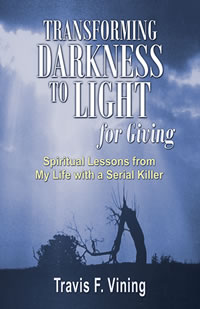 First Edition
5"x8" Trade Paperback
Retail: $14.95US
ISBN 978-1-933523-47-7
LCCN 2011937300
Also available as ebook
eISBN 978-1-933523-46-0
book details
cover detail
chapter one
buy the book >>>
TRANSFORMING DARKNESS TO LIGHT, for Giving
—Spiritual Lessons from My Life with a Serial Killer
Author: Travis F. Vining

To purchase from your local independent bookseller click here:


Purchase at amazon.com


Purchase at barnes&noble.com

Purchase at booksamillion.com:


All Bella Rosa Books titles are available through Ingram, Baker & Taylor, Brodart, Follett, BWI, The Book House, Inc., Emery-Pratt, Ambassador Books.
Booksellers, Schools, Libraries, and individuals can also purchase direct from Bella Rosa Books. For quantity discounts contact sales@bellarosabooks.com .