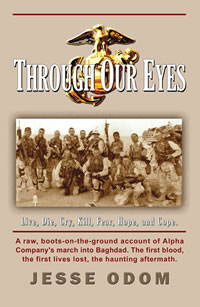 larger view of cover
buy the book
book details
excerpt >>>

THROUGH OUR EYES
Author: Jesse Odom
Original Title from Bella Rosa Books

ISBN 978-1-933523-14-9
LCCN 2008929029
A raw, boots-on-the-ground account of the Devil Dogs of Alpha Company's march into Baghdad and the capture of Saddam's palace. The first blood, the first lives lost, and each Marine's haunting aftermath.
Excerpt . . .
The Pumping Station — Fallen Brother
March 21, 2003 — Southern Iraq
I watched the sun rise from the commander's seat of the track, the same place I'd watched it set. Daylight, such as it was, came as a relief but offered no promise of rest. Our objective was in sight. The pumping station lay ahead. Artillery support bombarded the compound, fired by artillery canons back in Kuwait.
Captain Sokol gave the order to shift artillery fire to the outskirts of the pumping station compound as we got close. This was to assure our safety and to clear a wider area. He called for the bombardment to cease entirely before we entered the compound.
We positioned ourselves as planned. The tracks fanned out and faced a large cluster of buildings. We saw massive oil tanks, machinery, abandoned artillery pieces with stacks of shells, other military equipment, and what seemed to be an abandoned town. Alpha Marine infantrymen dismounted from the tracks and assumed a tactical offensive position. An old Iraqi flag flew high in the center of the buildings. We didn't see a soul.
The various units in Alpha had segmented the town. In order to assure that the buildings and other terrain were free from enemy threats; each unit had a specific area or lane to clear. Captain Sokol gave the word to secure the compound. Each platoon cleared their lane, then broke their section into smaller sections.
First Squad, my men, would clear the middle portion of Second Platoon's section. Our first obstacle was a small building. I could see men from my platoon and adjacent platoons clearing the town; looking for the enemy in every building, hole, car or whatever else they found. I sent my first fire team to enter a small dusty concrete building. My other fire teams and attachments covered every square inch of Mejia's team's movement. Corporal (Cpl.) Kowalski, Corporal Mejia, and Lance Corporal (LCpl.) Wetzel really made my job easy. They were damn fine fire team leaders.
I joined Mejia's team and proceeded to clear the building. Mejia was a subordinate, a peer, and a friend. He was the leader of my first fire team, a sub-unit of a squad usually made up of four Marines. I had three three fire teams in my squad, which is typical. We kicked in the door and successfully cleared the building. It was full of abandoned military equipment, guns, rocket propelled grenades (RPGs), and other miscellaneous items.
As we cleared our section, I heard machinegun fire to our left flank. Members of Alpha Company, not Second Platoon, fired at an Iraqi soldier carrying an AK-47. The Iraqi soldier was fleeing via motorcycle. Excited and trigger-happy Marines fired at the man until he fell off of the motorcycle. Why in the hell had the guy tried to escape? Why had he kept his weapon on his person? His stupidity caused him a lot of pain. The Iraqi man threw his hands up and made his way to Alpha Company's position. He had been shot through the face and was wounded in various parts of his body. He was our enemy prisoner first and then a patient. We treated every injured Iraqi that we encountered.
While we worked, we ignored the sporadic bursts of machinegun fire. First Squad, and every other Marine in Alpha, including attachments, heard explosions all around. At the time, I did not know what was going on because I heard most of them from two or three hundred meters away. Later I found out that some members of Alpha were throwing grenades around every corner, into every hole, and every building before other Marines in those squads would clear that particular area. It was not from fear or recklessness; it was a judgment call made by individual unit leaders.
As Second Platoon continued to clear the right flank of the town, we heard more explosions. I realized that Marines were using grenades to clear dead space. I didn't feel threatened enough to order frags out. Our situation did not lend itself to needlessly endanger my men with deadly fragmentation grenades. My strategy was to hold onto our grenades in case we encountered a greater threat as we traveled to Baghdad. Our squad cleared each building with textbook tactics. Nobody was shooting at us so our job was easy. Our segment ended when we reached a paved road.
Cpl. Gross, a weapons platoon Marine, had stepped on a landmine causing one of the explosions I heard. I was told it tore his boot to shreds, broke some bones, and ripped some flesh from his lower extremities, he was lucky to have survived. One of the leaders of Alpha Company called in a medical evacuation (medevac) for Cpl. Gross. He was the first ground troop injured by the enemy in the war. The news left us sobered. This wasn't going to be as easy as we thought.
Within minutes, every member of Alpha Company made it to the paved road. Lieutenant (Lt.) Childers gave Second Platoon the order to remain in a tactical defensive position. My subordinate leaders—fire team leaders—accomplished this task while Childers gave the squad leaders information. Staff Sergeant (SSgt.) Nerad, the platoon sergeant, Sergeant (Sgt.) Mercer, Second Squad's leader, Cpl. Wilson, Third Squad's leader, and I, Corporal Jesse Odom, conveyed to Lt. Childers the facts pertaining to the sections cleared by our teams.
We reported on the intelligence we had gleaned concerning the amount and type of Iraqi military equipment encountered in our segments. Lt. Childers gave us a pat on the back for accomplishing our first real task. After the chat with our platoon commander, we passed his new information to our squad members and inspected their defensive positions. Sometime during this inspection I heard a crack. LCpl. Tedder of Third Squad shot a round into an approaching hostile vehicle. I got behind a nearby track and assessed the situation.
An Iraqi vehicle barreled down the road that lay perpendicular to our defense. We began to receive small-arms fire from the small pick-up truck carrying several armed men. Dust flew up from the impacts of the AK-47 fire. Second Platoon Marines unleashed a wall of lead into the speeding truck. Hundreds of bullets pierced the truck. Amazingly it stayed on course traveling down the road at a reckless speed.
Several Marines positioned themselves to fire at the truck. I got extremely pissed because some Marines did not stand their defensive grounds. They took an uncoordinated offensive posture, which put a gap in the defense we had established. I kneeled beside the armored track.
I didn't want a bullet in my back put there by a bunch of trigger happy Devil Dogs. Every Marine wanted a piece of the action and some were reckless, endangering themselves and fellow Marines. I wanted to be in the middle of the action too, but I was not going to violate the principles of common sense and standard protocol. Our job was to kill the enemy and we wanted to do our job. Some men got caught up in their excitement and fearlessness and forgot that deaths could be caused by friendly fire.
Most of these Marines were new Devil Dogs, or boots, a nickname for new Marines. They were all warriors to me, a little crazy at times, but warriors. The bloody, shredded, truck passed my position and veered to the right side of the road. From a safe and practical position, I placed carefully aimed shots into the side of the truck. It came to a dead stop. Marines still fired from every angle. Many didn't realize that it was only the first official day of the ground war. It appeared that they thought this would be their only chance to justifiably shoot another person. It was the job we'd come to do. We wanted to put our training to the test and complete our mission.
Once the truck stopped, I noticed a Marine slowly lowering himself to the ground just a few feet from me. I couldn't tell who it was. The Marine curled into the fetal position. He grasped his stomach with both hands as he lay on his side. I ran to him and, with shock, saw that it was Lt. Childers. Even then he spoke in a mild, unruffled voice, "I'm shot. In the gut." I gently rolled him to his back and began to tear at his gear and clothing. He spit his Copenhagen tobacco out on his chin. Then, he moaned and gave me a look of pain and disillusionment, like he couldn't believe this had happened.
Shane's groans of agony sent a chill up my spine. Seconds later, the groans stopped. I thought he was dead. He didn't seem to be breathing. I brushed the tobacco off of his lips and chin and took a breath of air. I tilted his head back and pushed a breath of my air into his lungs. He made a loud gasping sound and began to breathe again. I had hopes that we could still save him. I called several times for a corpsman. It only took about a minute for "Doc" Calzado to arrive but it seemed much longer.
Calzado took a knee and began to ask questions while we finished stripping away Shane's gear and clothing. I pressed my hand against the nearly bloodless bullet hole in his stomach thinking it might stop the internal bleeding. I didn't know what else to do. Calzado found the hole in Lt. Childers' back, on the opposite side of the one in his abdomen. The bullet had passed right through his body.
Another platoon corpsman, "Doc" Glanville, arrived. Glanville stood above us. At that moment, we heard several machinegun bursts. Another vehicle was barreling down the same road. We were in the enemies' kill zone. Glanville, the senior of the two, said, "We can't work on him here." I could barely hear Glanville's words due to the unbelievable amount of firepower the tracks and Marines were laying upon the second vehicle. Glanville was right; it was too dangerous. It was at that moment Lt. Childers spoke his last words. Quietly, Lt. Childers murmured, "It hurts."
I leaned over my wounded friend, grabbed his arms, and slung him over my shoulders. I didn't feel the weight of his body. Adrenaline rushed through my veins. I carried him several feet until we reached the rear of the armored track. It was like a scene from a movie. Earsplitting machinegun bursts and small arms fire captured the moment. But this was not a movie it was our reality, our untouchable hero was dying. I was afraid the movement was killing him. I laid the lieutenant on the rear ramp of the sardine can.
The firing had stopped.
The corpsmen cut away at straps and pant legs. Lt. Childers was stripped down to his USMC physical training shorts. I could see urine on his shorts. I held back my tears. As the corpsmen, now three of them, worked to keep life in Childers, I kneeled at his side.
I observed my squad's position and the situation, which was in complete control. I trusted Cpl. Mejia and Cpl. Kowalski, my senior team leaders, when I wasn't present. They were experienced and mature Marines, as were most of the Marines in my squad. Shane was down but not out. He was in good hands. And not another man in our platoon was injured.
The second enemy vehicle had only made it about half the distance the first truck did. The massive .50 caliber track-mounted machineguns, along with a platoon of infantry Marines, were ready for it. The bullets had ripped into the vehicle and its cargo-several armed men.
The noises coming from within Lt. Childers' chest were heartbreaking. Tears slowly emerged from the corners of his eyes. The tears ran down the side of his face leaving trails on his dusty cheeks. He was in pain. His body was trying to reject his fate. I knew then that he was going to die.
SSgt. Nerad hovered over us while we cared for Childers. The corpsmen were fighting hard to save Childers' life. Their efforts gave me a heartfelt confidence in their abilities during the rest of the war. Nerad's eyes watered. He gave me a look of disbelief. Childers was one of his closest friends.
The lack of blood worried us. It meant he was bleeding internally. We tried to place a plastic medical device in his mouth to keep his airway clear. He didn't say a word but he fought us using his mouth and neck. We stopped. He just wanted peace. I tried to comfort him. I stroked his face and told him that he was the greatest platoon commander ever and that I was there for him. "Corporal Odom is here for you, Sir." He slowly faded as I talked. I couldn't take it anymore. I had to leave, his eyes were like glass. They looked cold but mysteriously peaceful. His breathing had slowed to almost nothing. Only a barely audible whimper emerged from the depths of his lungs. I walked away only to turn back around. The designated ambulance track arrived. I helped put Childers on a pole litter and we placed him in the rear of the track. He perished moments later.
My friend, Lt. Shane Childers, was the first American to die in the Iraq war.

©2008 Jesse Odom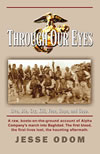 THROUGH OUR EYES
Author: Jesse Odom
5.5"x 8.5" Trade Paperback
Retail: $14.95US

ISBN 978-1-933523-14-9
LCCN 2008929029
larger view of cover
buy the book
excerpt
book details
NOTE: A portion of the proceeds from this book will go to the Chip Wicks Fund, a fund to support the men and women who have fought and served in Iraq or Afghanistan and now have Post Traumatic Stress Disorder.
More details at the author's website: www.iraqthroughoureyes.com
You may order this book direct from Bella Rosa Books using PAYPAL.
$17.00 Includes shipping & handling worldwide.
Click the button below to begin the order process.
BOOKSELLERS:
Bella Rosa Book titles are available through Ingram, Baker & Taylor, Brodart, Follett, BWI, The Book House, Inc., Emery-Pratt, and Parnassus Book distributors. Bella Rosa Books is also a corporate-level vendor for Borders/Waldenbooks.

Booksellers, Schools, and Libraries can also purchase direct from Bella Rosa Books.
For quantity discounts contact sales@bellarosabooks.com .
To purchase from your local independent bookseller click here:


Purchase at amazon.com


Purchase at barnes&noble.com

Purchase at Target.com