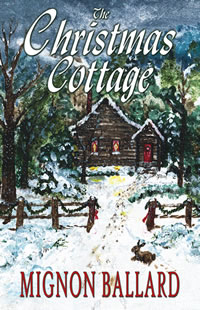 larger view of cover
buy the book
read the first chapter
book details >>>
Trade Paperback Original
5.5"x8.5"
Retail $9.95US
ISBN 978-1-933523-22-4
LCCN 2007937987
cover art and interior graphics
by Joyce Wright
www.artbyjoyce.net
THE CHRISTMAS COTTAGE
Author: Mignon Ballard

Christmas has always been a special time for Meredith Enright. Born on Christmas Eve, she celebrates the holiday with joy, filling her home with seasonal music and the fragrance of fir and pine. But this year, her jam cake is still warm from the oven when Meredith receives the shocking news of her husband's sudden illness while on a business trip to Atlanta.
Alone and frightened in the ICU waiting room of an unfamiliar hospital, Meredith is befriended by a kind volunteer who accompanies her to the facility's chapel where they wait together through the long night. During her vigil, Meredith remembers a Christmas from her childhood when her mother was seriously injured in an automobile accident. In her despair, she relives the memory of that long-ago Christmas when she was sent to spend the holidays with her childless Aunt Martha.
Aunt Martha worked for a large department store in Knoxville, but lived in a remote area outside the city. Because she was gone during the day, she asked bland Mrs. Boggs to stay with Meredith.
Worried about her mother and missing her family, eight-year-old Meredith has only a stuffed bear and her brother's much-loved clown doll for company until she meets Lucinda and the loving family who live in the Christmas Cottage deep in the woods behind Aunt Martha's house.
The memory of that Christmas brings to Meredith a renewal of hope and joy as she faces the outcome of her husband's illness.
About the Author:
Mignon Ballard is the author of 15 books, including Aunt Matilda's Ghost, an award-winning mystery for young readers, and The War in Sallie's Station, a novel for adults telling of a young girl's bitter-sweet coming of age in time of war. Other works are: Raven Rock, Cry at Dusk, Deadly Promise, The Widow's Woods, Final Curtain, and Minerva Cries Murder, as well as Bandstand Tales and Bandstand Tales II, musicals based on the history of Fort Mill, S.C.
Her Augusta Goodnight Mysteries include: Angel at Troublesome Creek, An Angel to Die For, Shadow of an Angel, The Angel Whispered Danger, Too Late for Angels, and The Angel and the Jabberwocky Murders. The seventh in the series, Hark the Herald Angel Screamed, is due from St. Martin's Minotaur in the fall of 2008.
Born and reared in Calhoun, Ga., Mignon and her husband live in Fort Mill, S.C., where she wraps herself in Christmas every year as soon as the first carol is played.
Visit her website at www.mignonballard.com

THE CHRISTMAS COTTAGE
Author: Mignon Ballard
5.5"x8.5" Trade Paperback
Retail $9.95US
ISBN 978-1-933523-22-4
LCCN 2007937987
larger view of cover
buy the book >>>
read the first chapter
book details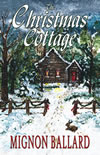 To purchase from your local independent bookseller click here:


Purchase at amazon.com


Purchase at barnes&noble.com

Purchase at booksamillion.com:


Or you may order direct from Bella Rosa Books using PAYPAL.
$15.00 Includes shipping & handling worldwide.
Click the button below to begin the order process.
BOOKSELLERS:
All Bella Rosa Book titles are available through
Ingram, Baker & Taylor, Brodart Company, Book Wholesalers, Inc. (BWI),
The Book House, Inc., and Parnassus Book distributors.

Booksellers, Schools, and Libraries can also purchase
direct from Bella Rosa Books.
For quantity discounts contact sales@bellarosabooks.com .