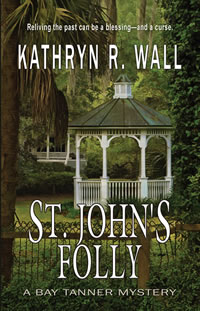 book details >>>
read the first chapter
larger view of cover
buy the book
First Edition
5.5"x8.5" Trade Paperback
Retail: $14.95US; 276pp
ISBN 978-1-62268-041-2 print
ISBN 978-1-62268-042-9 e-book
LCCN 2013952046
Launch Party & Signing
Oct. 29, 2013
Jump & Phil's
Hilton Head Plaza
Hilton Head, SC
www.jumpandphilshhi.com
Signing: November 22
Barnes & Noble
Indigo Run
20 Hatton Place Suite 200
Hilton Head Island, SC
ST. JOHN'S FOLLY
— A Bay Tanner Mystery
(12th in the series)
Author: Kathryn R. Wall
---
Reliving the past can be a blessing-and a curse.
In this twelfth installment of the award-winning series set in the South Carolina Lowcountry, Bay Tanner finds herself at the center of her own mystery when she becomes the object of a stalker. The strange, almost childish messages appear at random and quickly escalate from mildly annoying to frightening. While her apparent admirer ramps up the pressure, the inquiry agency accepts a new client. Hub Danforth wants his aging uncle, owner of a dilapidated bungalow on a beachfront property worth millions, placed under surveillance. Malcolm St. John has been acting strangely, and Hub hopes Bay and her associates can help him prove the old man incompetent, paving the way for Danforth to assume control of his assets. Although he claims he has the old man's interests at heart, Bay begins to have her doubts, especially when she discovers a large real estate conglomerate, headed by Danforth's ex-wife, also has designs on the valuable property.
Then Malcolm St. John is attacked and one of the principal players is found dead in a hotel room. Are the two incidents related? As Bay tries to probe the erratic memory of the old man, she becomes increasingly aware that he is living in a world long past, one in which life was far simpler, but which keeps him from a full realization of his own vulnerability. Can Bay keep him safe? And who exactly does he need to fear?
As her life seems to slide inexorably toward disaster, Bay Tanner must find the courage to face all her demons—both personal and professional—and to realize that reliving the past can be both a blessing-and a curse.
---
"Sue Grafton, Sara Paretsky, and Marcia Muller come to mind as the quintessential writers of the modern female private eye novel. Wall, in a quiet and unassuming way, has produced a body of work of equal quality. Highly recommended."
—Library Journal
About the Author:
Kathryn R. Wall wrote her first story at the age of six, then decided to take a few decades off. She grew up in a small town in northeastern Ohio and attended college both there and in Pennsylvania. For twenty-five years she practiced her pro-fession as an accountant in both public and private practice. In 1994, she and her husband, Norman, settled on Hilton Head Island.
Wall has been a mentor in the local schools and has served on the boards of Literacy Volunteers of the Lowcountry, Mystery Writers of America, and Sisters in Crime. She is also a founding member of the Island Writers Network on Hilton Head.
Wall is the author of the Bay Tanner mysteries:
IN FOR A PENNY
AND NOT A PENNY MORE
PERDITION HOUSE
JUDAS ISLAND
RESURRECTION ROAD
BISHOP'S REACH
SANCTUARY HILL
THE MERCY OAK
COVENANT HALL
CANAAN'S GATE
JERICHO CAY
ST. JOHN'S FOLLY
All the novels are set on Hilton Head Island and in the surrounding South Carolina Lowcountry.
visit Kathryn online at: www.kathrynwall.com
ST. JOHN'S FOLLY
—A Bay Tanner Mystery
(12th in the series)
Author: Kathryn R. Wall
First Edition
5.5"x8.5" Trade Paperback
Retail: $14.95US; 276pp
ISBN 978-1-62268-041-2 print
ISBN 978-1-62268-042-9 e-book
LCCN 2013952046
buy the book >>>
read the first chapter
book details
larger view of cover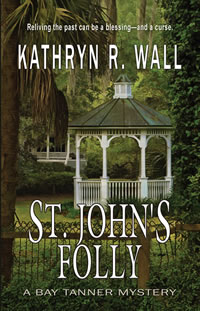 To purchase from your local independent bookseller click here:


Purchase at amazon.com


Purchase at barnes&noble.com


Purchase at booksamillion.com:


NOTE TO BOOKSELLERS:
All Bella Rosa Book titles are available through
Ingram, Baker & Taylor, Brodart Company, Book Wholesalers, Inc. (BWI),
The Book House, Inc., and Follett distributors.

Booksellers, Schools, and Libraries can also purchase
direct from Bella Rosa Books.
For quantity discounts contact sales@bellarosabooks.com .