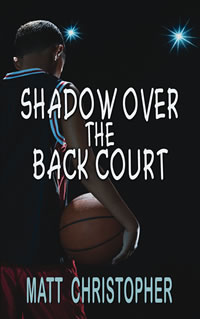 larger view of cover
buy the book
read chapter one
book details >>>
SHADOW OVER THE BACK COURT
Author: Matt Christopher
2008 Reissue Edition
5"x 8" Trade Paperback
$7.95US; 132pp

ISBN 978-1-933523-37-8
LCCN 2008936423
BOOK DESCRIPTION:
Jeff is crazy about basketball, but his father, a research scientist, thinks sports are a waste of time. Jeff still wants to play, and so, without his father's support, he tries out for the school team. And he makes second string. He'd mostly sit on the bench, but Jeff knows that he will get a chance to prove himself to the coach and the team-and his father. He also knows that his dream of playing varsity will take a lot of hard work, but he enjoys every minute of practicing and playing.
After a frightening accident involving the team bus, Jeff's father insists that he quit the team. Later, the school principal convinces Jeff's father to change his mind, and eventually Jeff persuades his father to come see a game.
In a dramatic season-ending playoff game Jeff gets a chance to prove that his dream is possible-and that sports can be a valuable part of growing up.
About the Author:
MATT CHRISTOPHER has written and published more than one hundred twenty novels, making him the most prolific and bestselling sportswriter for children and young adults ever. From books on football and baseball to soccer and skateboarding. His work has spanned three generations of readers, and new fans are joining the ranks every year.
visit the author's website at: www.mattchristopher.com

SHADOW OVER
THE BACK COURT
Author: Matt Christopher
2008 Reissue Edition
5"x 8" Trade Paperback
$7.95US; 132pp

ISBN 978-1-933523-37-8
LCCN 2008936423
larger view of cover
buy the book >>>
read chapter one
book details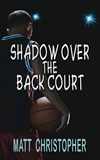 To purchase from your local independent bookseller click here:


Purchase at amazon.com


Purchase at barnes&noble.com

Purchase at booksamillion.com:


Or you may order direct from Bella Rosa Books using PAYPAL.
BOOKSELLERS:
All Bella Rosa Book titles are available through
Ingram, Baker & Taylor, Brodart, Follett, BWI, The Book House, Inc., Emery-Pratt, Ambassador, and Parnassus Book distributors.

Booksellers, Schools, and Libraries can also purchase
direct from Bella Rosa Books.
For quantity discounts contact sales@bellarosabooks.com .