SHADOW OVER
THE BACK COURT
Author: Matt Christopher
2008 Reissue Edition
5"x 8" Trade Paperback
$7.95US; 132pp

ISBN 978-1-933523-37-8
LCCN 2008936423
larger view of cover
buy the book >>>
read chapter one
book details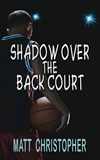 To purchase from your local independent bookseller click here:


Purchase at amazon.com


Purchase at barnes&noble.com

Purchase at booksamillion.com:


Or you may order direct from Bella Rosa Books using PAYPAL.
BOOKSELLERS:
All Bella Rosa Book titles are available through
Ingram, Baker & Taylor, Brodart, Follett, BWI, The Book House, Inc., Emery-Pratt, Ambassador, and Parnassus Book distributors.

Booksellers, Schools, and Libraries can also purchase
direct from Bella Rosa Books.
For quantity discounts contact sales@bellarosabooks.com .