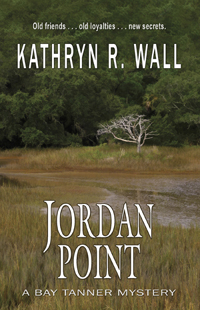 book details >>>
read the first chapter
larger view of cover
buy the book
First Edition
5.5"x8.5" Trade Paperback
Retail: $14.95US; 252pp
ISBN 978-1-62268-077-1 print
ISBN 978-1-62268-078-8 e-book
LCCN 2015940963
JORDAN POINT
— A Bay Tanner Mystery
(13th in the series)
Author: Kathryn R. Wall
---
Old friends . . . old loyalties . . . new secrets.
Hilton Head private investigator Bay Tanner has seen enough murder and mayhem to last her several lifetimes. Her decision to accept only the most mundane cases has led to a more settled life with her husband and employees until the appearance of an old friend scuttles all her good intentions.
Sylvia Reynolds, lovingly known as Pudge back when their crowd shared forbidden cigarettes in the girls' restroom, has morphed into Sylvie Reynaud, one of the world's former top fashion models. Every few months she and a few women meet at Sylvie's spectacular north island home to drink, party, and commiserate as they slide into middle age. Except one of them has a husband who enjoys using her as a punching bag, and her injuries are becoming more serious every time the group meets. Sylvie wants Bay to help put a stop to it before their friend ends up dead.
It sounds straightforward enough at first—until Mary Alice Stuart's husband suddenly disappears from the yacht they keep docked at a local marina. Then evidence that points to something more sinister than a simple marital squabble begins to mount, and his battered wife becomes the prime suspect. But could the petite, very proper woman they all called Scarlett really be capable of violence—or worse? Or is this just another facet of James Stuart's vicious campaign to punish his wife?
With her longtime partner Erik Whiteside off on a personal mission and with an inexperienced employee as backup, Bay tries valiantly to balance the demands of her other clients with the search for James Stuart and her own private fears for the safety of her beloved Lavinia Smalls.
One thing she knows for certain—friends in need can be a deadly serious business.

---
"Sue Grafton, Sara Paretsky, and Marcia Muller come to mind as the quintessential writers of the modern female private eye novel. Wall, in a quiet and unassuming way, has produced a body of work of equal quality. Highly recommended."
—Library Journal
About the Author:
Kathryn R. Wall wrote her first story at the age of six, then decided to take a few decades off. She grew up in a small town in northeastern Ohio and attended college both there and in Pennsylvania. For twenty-five years she practiced her pro-fession as an accountant in both public and private practice. In 1994, she and her husband, Norman, settled on Hilton Head Island.
Wall has been a mentor in the local schools and has served on the boards of Literacy Volunteers of the Lowcountry, Mystery Writers of America, and Sisters in Crime. She is also a founding member of the Island Writers Network on Hilton Head.
Wall is the author of the Bay Tanner mysteries:
IN FOR A PENNY
AND NOT A PENNY MORE
PERDITION HOUSE
JUDAS ISLAND
RESURRECTION ROAD
BISHOP'S REACH
SANCTUARY HILL
THE MERCY OAK
COVENANT HALL
CANAAN'S GATE
JERICHO CAY
ST. JOHN'S FOLLY
LIKE A BAD PENNY (ebook short story)
JORDAN POINT
All the novels are set on Hilton Head Island and in the surrounding South Carolina Lowcountry.
visit Kathryn online at: www.kathrynwall.com
JORDAN POINT
—A Bay Tanner Mystery
(13th in the series)
Author: Kathryn R. Wall
First Edition
5.5"x8.5" Trade Paperback
Retail: $14.95US; 252pp
ISBN 978-1-62268-077-1 print
ISBN 978-1-62268-078-8 e-book
LCCN 2015940963
buy the book >>>
read the first chapter
book details
larger view of cover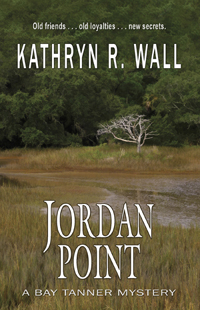 To purchase from your local independent bookseller click here:


Purchase at amazon.com


Purchase at barnes&noble.com


Purchase at booksamillion.com:


NOTE TO BOOKSELLERS:
All Bella Rosa Book titles are available through
Ingram, Baker & Taylor, Brodart Company, Book Wholesalers, Inc. (BWI),
The Book House, Inc., and Follett distributors.

Booksellers, Schools, and Libraries can also purchase
direct from Bella Rosa Books.
For quantity discounts contact sales@bellarosabooks.com .