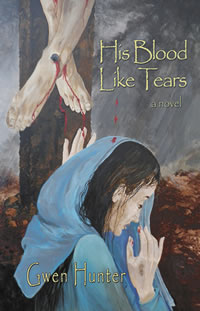 HIS BLOOD LIKE TEARS
First Edition
Trade Paperback
Retail: $15.95US
ISBN 978-1-933523-42-2
LCCN 2011961445


book details >>>
cover detail
read an excerpt
buy the book

HIS BLOOD LIKE TEARS
Author: Gwen Hunter
This unique novel spins a tale centered on Mary, the Magdalene—a story of life, death, violence, and forgiveness.

---
When Mary of Magdala is healed, she remembers nothing about her years possessed by seven demons. What she recalls is the death of her family—supposedly at the hands of Romans. Homeless, a widow, she joins the traveling disciples of Jesus of Nazareth and develops friendships with all of the followers, but especially with Thaddeus and Simon the Zealot.
Thaddeus was looking for a teacher with knowledge greater than his own, a man with wisdom and purpose, but he never expects his life or lifestyle to change. When he finds Jesus, the new Rebbe is a man like none other, with a mission and a ministry that open vistas, relationships and a future Thaddeus had never imagined.
Simon the Zealot is a man of violence, vengeance, and hatred. When he meets Jesus, he is transformed, finds a new purpose, and becomes a new man. When he meets Magdalene, he finds friendship and a final healing.
But the disciples and Magdalene are all too human. Though they travel and learn from the great Teacher, they are not completely free of the shadows in their pasts, until they face the greatest betrayal and horror of all—the death of their friend on the cross.

Author's Note >>>
This book is a work of fiction. In no way have I tried to remove anything from, or add anything to, the scriptures or church history to make a better story. While it is meticulously researched, it is a product of my imagination, not doctrine, not scripture, not fact. It's just a story that asks my favorite question, "What if?"
His Blood Like Tears was my first novel, started just after high school, and back then, no publisher wanted it. I could have given up on the novel, but I loved it too much to simply put it under the bed and leave it there forever. I went on to have a good career in the fiction market in several genres, under the names of Gwen Hunter, Gary Hunter, and Faith Hunter, but this book was the child of my heart. I came back to it every few years, reading over the manuscript, making changes, knowing that there was something special about the story, and hoping that someone, someday, would agree.
As I worked on the manuscript, I would have dreams about the story or the book cover. The title and cover art are directly from those dreams.
And now it is finally in print. I am so thrilled! I hope you like the story. I hope you like the characters.
—Gwen Hunter
www.gwenhunter.com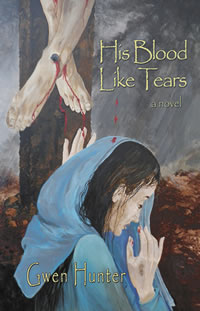 First Edition
Trade Paperback
Retail: $15.95US
ISBN 978-1-933523-42-2
LCCN 2011961445

buy the book >>>
book details
cover detail
read an excerpt

HIS BLOOD LIKE TEARS
Author: Gwen Hunter
Pre-Order using PAYPAL
$18.00 Includes shipping & handling ($22.00 outside USA).
Click the button below to begin the order process.
All Bella Rosa Books titles are available through Ingram, Baker & Taylor, Brodart, Follett, BWI, The Book House, Inc., Emery-Pratt, Ambassador Books.
Booksellers, Schools, Libraries, and individuals can also purchase direct from Bella Rosa Books. For quantity discounts contact sales@bellarosabooks.com .