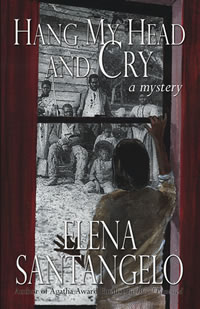 larger view of cover
buy the book
read the first chapter
book details
cover art by Joyce Wright
www.artbyjoyce.com
HANG MY HEAD AND CRY
Author: Elena Santangelo
Reissue Edition
5.5"x8.5" Trade Paperback
$14.95US; 284pp
ISBN 1-933523-05-0
Second in the Pat Montella series

Book Description:
All Pat Montella wanted was a few fresh-off-the-vine tomatoes. Now that she'd moved from an apartment to live with ninety-one-year-old Miss Maggie Shelby in the retired history teacher's old farmhouse, Pat can finally plant a garden. She picks the spot for it on a whim, after a recurring dream in which a young boy tells her where to dig. As she tills the soil, though, a human skull surfaces.
Miss Maggie calls in prominent anthropologist Dr. Emmy Brewster to help solve the historical mystery. However, her assistant, Theo Clayborne, a statuesque and sexy black man with the most beautiful voice Pat's ever heard, quickly becomes the prime suspect in a string of local shootings. Then the ghost of that young boy returns to Pat's dreams, this time with a warning...

Reviews:
". . . Ghosts, murder, romance, Old South, New South, an aristocratic old lady, a gaggle of good ol' boys and an intrepid heroine add up to fine and cozy entertainment."
—PUBLISHER'S WEEKLY
"As unforgettable as her debut mystery, HANG MY HEAD AND CRY, lives up to the implied promise of BY BLOOD POSSESSED. Sharing her modern-day narrative with a concurrent historical storyline, Santangelo skillfully meshes the two stories together, winding up to a startling conclusion that satisfies all around. Having created eminently believable characters that practically step out of the pages and knock on your front door, this author continues the relationships begun in her first book, developing the characters as naturally as if she'd just been hanging out with them for the last few weeks. I found myself completely engrossed in this story (as with the first one), and unable to put the book down until finished. There are few authors who can write this compellingly and I rejoice that I discovered this one. Santangelo's love of history, of the region and of a good ghost story is evident on all the pages, as is her talent for telling a tale. I can only hope that this is the beginning of a beautiful readership. The highest kudos to Elena Santangelo!"
—COZIES, CAPERS & CRIMES An Email Newsletter for Booklovers
"Brava, Elena Santangelo for writing a unique and thoroughly satisfying page-turner that has it all: depth and humor, compelling mysteries in the past and present, a haunting sense of place and of history and what it means, plus characters I'll long remember. I couldn't put it down. What a grand debut! Encore! Encore!"
—GILLIAN ROBERTS, author of both the Amanda Pepper and Emma Howe series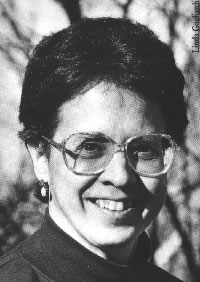 About the Author:
Elena Santangelo is both history buff and ghost story connoisseur. Her first novel, BY BLOOD POSSESSED, was an Agatha Award Finalist for Best First Novel. She is also an award-winning writer of short mysteries and ghost tales. Find out more at www.elenasantangelo.com .
HANG MY HEAD AND CRY
Author: Elena Santangelo
Reissue Edition
5.5"x8.5" Trade Paperback
$14.95US; 284pp
ISBN 1-933523-05-0
read the first chapter
book details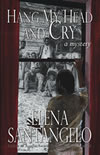 To purchase from your local independent bookseller click here:


Purchase at amazon.com


Purchase at barnes&noble.com

Purchase at booksamillion.com:


Or you may order direct from Bella Rosa Books using PAYPAL.
$15.00 Includes shipping & handling worldwide.
Click the button below to begin the order process.
Or contact us at sales@bellarosabooks.com .
BOOKSELLERS:
All Bella Rosa Book titles are available through
Ingram, Baker & Taylor, Brodart Company, Book Wholesalers, Inc. (BWI),
Follett Library Resources, The Book House, Inc.
Booksellers, Schools, and Libraries can also purchase
direct from Bella Rosa Books.
For quantity discounts contact sales@bellarosabooks.com .