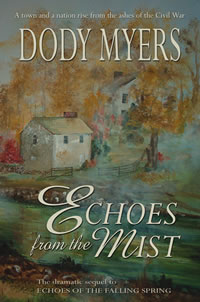 ISBN 978-1-933523-19-4 print
ISBN 978-1-62268-003-0 e-book
LCCN 2006936689

larger view of cover
book details
read the first chapter
buy the book
cover art by Joyce Wright
www.artbyjoyce.com
ECHOES FROM THE MIST
A town and a nation rise from the ashes of the Civil War
Author: Dody Myers
Publisher: Bella Rosa Books
6" x 9" Trade Paperback
Retail $14.95US
The dramatic sequel to ECHOES OF THE FALLING SPRING

Ford McKenzie, a Southern Captain during the Civil War, has returned to Chambersburg, the only Northern town burned by the Confederates, to marry a local girl, Abby Kennedy. Here, they struggle with the psychological impact of the war upon their personal lives.
Coping with grief inflicted by disease, murder and infidelity, tension heightens as the local railroad, represented by Abby's brother-in-law, attempts to run tracks through the heart of the McKenzie farm.
Amanda, the illegitimate daughter of Abby's sister, and Michael, Ford's half-breed son, fall in love. Their blossoming romance is interrupted when Amanda enters Wilson College, and Michael searches for his heritage in the South.
The North/South prejudice, the White/Indian bias, the death of a child, murder, betrayal of family members, lasting love, and reconstruction after war come together to make this an unforgettable story.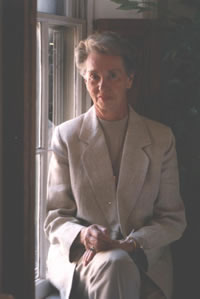 Author Bio:
Dody Myers is the author of five historical novels . . . THE GREATEST OF THESE IS LOVE, THE REBERTS OF LITTLESTOWN, ECHOES OF THE FALLING SPRING, FREDERICA SUMMER, and ECHOES FROM THE MIST. She blends historical fact and real people with fictional characters to put a human face on our past.

Myers and her husband divide their time between Chambersburg, Pennsylvania and St. Simons Island, Georgia.


You can contact her at: dody@innernet.net

Author Website: www.dodymyers.com

Appearances:
Aug 30th -- Corn Festival, Shippensburg, Pa.
Sept. ist -- Drummer Boy Campground, Gettysburg, Pa
Sept. 7th -- Mystery Book Shop, Mechanicaburg, Pa.
Sept. 9th - Weis Market, Chambersburg, Pa.
Sept. 20 -- Waldenbooks, Chambersburg, Pa.
Nov. 3rd --Weis Market Open House, Chambersburg, Pa.
Nov. 6th -- Menno Haven Christmas Show, Chambersburg, Pa.
Dec. 3rd. -- Snider's Feed Mill, Greensburg, Pa.
ECHOES FROM THE MIST
Author: Dody Myers
Bella Rosa Books
6" x 9" Trade Paperback
Retail $14.95US; 232pp
ISBN 978-1-933523-19-4 print
ISBN 978-1-62268-003-0 e-book
LCCN 2006936689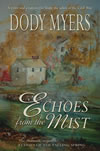 larger view of cover
book details
read the first chapter
buy the book
To purchase from your local independent bookseller click here:


Purchase at amazon.com


Purchase at barnes&noble.com

Purchase at booksamillion.com:


Or you may order direct from Bella Rosa Books using PAYPAL.
$15.00 Includes shipping & handling worldwide.
Click the button below to begin the order process.

Or contact us at sales@bellarosabooks.com .
BOOKSELLERS:
All Bella Rosa Book titles are available through
Ingram, Baker & Taylor, Brodart Company, Book Wholesalers, Inc. (BWI),
The Book House, Inc., and Parnassus distributors.
Booksellers, Schools, and Libraries can also purchase
direct from Bella Rosa Books.
For quantity discounts contact sales@bellarosabooks.com .
---