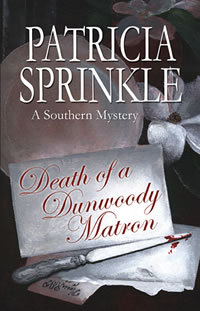 book details >>>
cover detail
buy the book


DEATH OF A DUNWOODY MATRON — a Southern Mystery
Fifth in the Sheila Travis series.
Author: Patricia Sprinkle
5.5"x8.5" Trade Paperback Reissue Edition
$14.95US; 272pp
ISBN 1-933523-06-9
Also available as ebook.

What does a Dunwoody matron wear to a funeral? Her black tennis dress.
It's no joke, however, when the funeral is given for your high school buddy's wife, and she has been brutally murdered.
Sheila Travis, successful corporate executive and attractive fortyish widow, has met Yvonne Delacourt once, at a party. Yvonne is stunning, ambitious-and intensely disliked. Under the local residents' gracious veneer of Southern hospitality, Sheila senses their seething antagonism to young Mrs. Delacourt.
When Yvonne is found stabbed to death, the police focus on her husband, Walt, as the most likely suspect. Sheila sets out to clear the pal of her youth by finding out more about those Dunwoody residents who loathed the alluring victim. The spirited search reveals dark secrets more carefully kept than the manicured lawns of this exclusive enclave-from a respected matrons' double life, to a retired couple's vile secret, to an arrogant gardener who has no gardening tools. But the real shocker comes when Sheila, following lurid hints about Yvonne's slippery past, arrives in the dead woman's Florida hometown. Horrific discoveries reveal a soul-chilling evil and elicit unexpected sympathy for Yvonne's killer.
Back in Dunwoody, Sheila finds her emotions stirred by an undeniably appealing man with a disturbing connection to the crime. Her maverick investigation startlingly reveals that the biggest secret of all was Yvonne's.
Reviews:
"A biting send-up of the Dunwoody lifestyle."
—Publisher's Weekly (Don't miss the Dunwoody matron jokes!)
"Engaging . . . Compelling . . . A delightful thriller."
Peachtree magazine
"Sparkling . . . Witty . . . A real treat and as refreshing as a mint julep, a true Southern pleasure."
—Romantic Times
About the Author:
Patricia Sprinkle grew up in the South, has lived most of her adult life in the South, and has family roots buried deep in Carolina soil. Her mysteries depict the contemporary South, in which small towns still retain the feel of the Old South while Atlanta and major cities are a cosmopolitan blend of Old South, New South, and newcomers from around the world. Mystery Times declared, "Forming a triumvirate with Anne George and Margaret Maron, Sprinkle adds her powerful voice to the literature of mysteries featuring Southern women."
Patricia's latest book is:
DID YOU DECLARE THE CORPSE? (Signet, ISBN 0-451-21780-2)
MacLaren takes a genealogy tour of Scotland and discovers bodies in a Highland chapel.

Please visit her website for other books and upcoming events.
www.patriciasprinkle.com
DEATH OF A DUNWOODY MATRON
A Southern Mystery
Author: Patricia Sprinkle
5.5"x8.5" Trade Paperback
Reissue Edition
$14.95US; 272pp
ISBN 1-933523-06-9
book details
cover detail
buy the book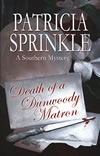 To purchase from your local independent bookseller click here:


Purchase at amazon.com


Purchase at barnes&noble.com


Purchase at booksamillion.com:


Or you may order a copy of DEATH OF A DUNWOODY MATRON direct from BellaRosaBooks using PAYPAL.
$15.00 Includes shipping & handling worldwide.
Click the button below to begin the order process.
Or contact us at sales@bellarosabooks.com .
NOTE TO BOOKSELLERS:
All Bella Rosa Book titles are available through
Ingram, Baker & Taylor, Brodart Company, Book Wholesalers, Inc. (BWI),
The Book House, Inc., and Parnassus distributors.
Booksellers, Schools, and Libraries can also purchase
direct from Bella Rosa Books.
For quantity discounts contact sales@bellarosabooks.com .