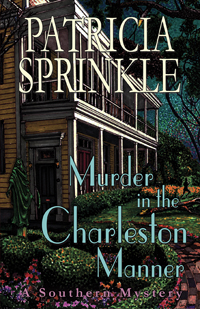 book details >>>
read the first chapter
larger view of cover
buy the book
Reissue Edition
5.5"x8.5" Trade Paperback
Retail: $15.95US
ISBN 978-1-62268-127-3 print
ISBN 978-1-62268-128-0 ebook
LCCN 2017952782
MURDER IN THE CHARLESTON MANNER
—A Southern Mystery
Second in the Sheila Travis series
Author: Patricia Sprinkle
---
Sheila Travis ruefully agrees when dispatched by her colorful Aunt Mary to Charleston to investigate several mysterious accidents at the historic home of Mary's childhood friends. However, Sheila can't help remembering what her dad always said about his sister: "Trouble follows that woman like fleas follow a dog."
Sheila's hostesses are such gracious purveyors of Southern hospitality that Sheila has to keep reminding herself this is not a social visit. Even if she is initially inclined to write the accidents off as coincidence, the first murder changes her mind. The second begins to unearth dark secrets amidst the roses and honeysuckle. Wills and family history come under close scrutiny as Sheila closes in on a killer . . . unwittingly putting herself in deadly danger.

---
"The reissue of MURDER IN THE CHARLESTON MANNER, Patricia Houck Sprinkle's classic Southern mystery, is a cause for celebration. Long hidden secrets exact a deadly toll in a mystery as elegantly wrought as Charleston's famous iron gates. Sheila Travis is a clever and genuine sleuth with charm and grit. Superb."
—Carolyn Hart, author of the Bailey Ruth Raeburn ghost series.

About the Author

PATRICIA SPRINKLE draws on her deep Southern roots to write three Southern mystery series. For a complete list of titles, see www.patriciasprinkle.com. She now lives in Oregon, and when she's not writing, likes to read, swim, work with children, and do nothing.

MURDER IN THE CHARLESTON MANNER
Author: Patricia Sprinkle
5.5"x8.5" Trade Paperback
Retail: $15.95US
ISBN 978-1-62268-127-3 print
ISBN 978-1-62268-128-0 ebook
LCCN 2017952782
buy the book >>>
read the first chapter
book details
larger view of cover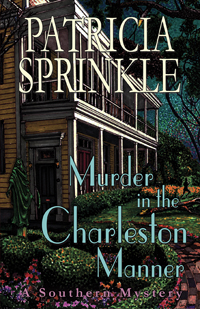 To purchase from your local independent bookseller click here:


Purchase at amazon.com


Purchase at barnes&noble.com


Purchase at booksamillion.com:


NOTE TO BOOKSELLERS:
All Bella Rosa Book titles are available through
Ingram, Baker & Taylor, Brodart Company, Book Wholesalers, Inc. (BWI),
The Book House, Inc., and Follett distributors.

Booksellers, Schools, and Libraries can also purchase
direct from Bella Rosa Books.
For quantity discounts contact sales@bellarosabooks.com .