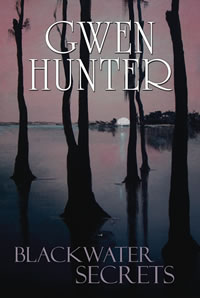 book details
order the book
read the first chapter


BLACKWATER SECRETS
Author: Gwen Hunter
Original Title from Bella Rosa Books
Hardcover w/dustjacket
ISBN 978-1-933523-02-6
LCCN 2006909402

Geneva Deveraux Stone swore that she would never return to the Louisiana Delta or to the Deveraux Estate. Never return to her hard-fisted father in the land of her birth, and the veiled mysteries, the memories of violence and murder. Over thirty years ago Helena Deveraux and her infant son died, the secret of their violent deaths buried by the powerful Old Man Deveraux. Their deaths were never investigated, explained or solved.
Now, however, her father is dying, and so is Gen's marriage to wealthy financier Barry Stone. Cast adrift from the life she has built in New York City, hounded by the paparazzi, Gen breaks a lifelong vow and flies back to the South, deep in the bayou country of Southern Louisiana. Back into the fading power of the Old Man Deveraux, back to the unanswered questions, back to her past.
Waiting for Gen is her sister Lily and her beloved niece and nephew, her old nanny, Della, her dying father, the old mystery, and Starnes Templar, the teenage love she left behind when she ran away to the big city and a new way of life. Now, Geneva must confront the riddles of her youth, the questions of her own identity, and the yawning chasm that is her future.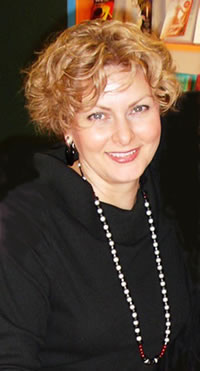 About the Author
A native of Louisiana, Gwen Hunter now lives in South Carolina. She is the author of eleven novels including the acclaimed DeLande Saga novels and the Rhea Lynch, MD Series. Her novels have been published worldwide in at least thirteen countries and eight languages.
Visit her official website at www.gwenhunter.com, for the latest news and contact information.
To purchase from your local independent bookseller click here:


To purchase from amazon.com click here:


Click here to purchase at barnes&noble.com:

Or you may order direct from Bella Rosa Books using PAYPAL.
$25.00 each includes shipping & handling worldwide.
Orders ship within 24 hours.
You may combine orders to save on shipping. For discounts or other options contact sales@bellarosabooks.com .
Otherwise, click the button below to begin the order process.

BOOKSELLERS:
All Bella Rosa Book titles are available through
Ingram, Baker & Taylor, Brodart Company, Book Wholesalers, Inc. (BWI),
The Book House, Inc., and Parnassus distributors.

Booksellers, Schools, and Libraries can also purchase
direct from Bella Rosa Books.
For quantity discounts contact sales@bellarosabooks.com .
---