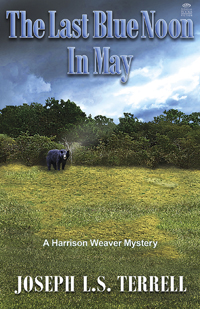 book details >>>
read an excerpt
cover detail
buy the book


THE LAST BLUE NOON IN MAY
—A Harrison Weaver Mystery (#6)
Author: Joseph L.S. Terrell
First Edition
5.5"x 8.5" Trade Paperback
136p; Retail $14.95US
Retail: $14.95US
ISBN 978-1-62268-125-9 print
ISBN 978-1-62268-126-6 ebook
LCCN 2017943765
---
Outer Banks crime writer Harrison Weaver tackles a really cold case—-disappearance of the nine-year-old sister of Chief Deputy Odell Wright. The young girl vanished twenty-two years earlier, and there seem to be no leads at all as to what happened to her. But when the "Bear Woman," who had befriended the black bears on the mainland near North Carolina's Outer Banks, is found dead in what appears to be a bear attack, Harrison and his friends SBI Agent Ballsford Twiddy and Deputy Odell Wright, unearth a connection that could shed light on the girl's fate. Now they must deal with the death of the Bear Woman, and the questions that nag them: Was she really killed by bears? Or was she killed by someone who feared she might be ready to uncover a brutal crime of decades earlier?
---
Praise for the Harrison Weaver Mysteries
"With Ernest Hemingway as his own personal muse, Joseph L.S. Terrell's Harrison Weaver series are delightful cozy mysteries taking place on the Outer Banks of North Carolina, where he has lived for quite a while. As soon as you begin reading, you realize you know each of the characters personally. The dialogue and suspense make these books hard to put down, so be prepared for a long night of intriguing reading."
—David R. Tanis, author of the Hamish O'Halloran Books

Undertow of Vengeance, Joseph Terrell's fourth thriller in the Harrison Weaver crime writer series, and set in North Carolina's Outer Banks, is a knockout. With the deadpan savvy delivery of Humphrey Bogart as Sam Spade and the clipped declarative sentences of Dashiell Hammett, this volume, like its predecessors, reaches out in the very first sentence, grabs you by the lapels, and never lets up.
—Joseph Bathanti, North Carolina Poet Laureate
Smooth writing from an eloquent storyteller goes down like fine scotch. Undertow of Vengeance is a keeper.
—Maggie Toussaint, Author, Cleopatra Jones Mysteries
"Every once in a while I'll pick up a book and from the first sentence, I'm engaged. Written with an extraordinary eye for detail yet in the sparse language of the journalist he once was, Terrell's novel is filled with wonderful dialogue, believable characters and just enough plot twists to keep the reader turning pages."
—Kip Tabb, Editor, North Beach Sun
"Joe Terrell gets the Outer Banks just right, from crashing surf to the sordid crimes behind the tourism façade, to a thoughtful sleuth who can throw a punch and make a mean sweet tea."
—David Healey, Author, The House That Went Down With The Ship
"A smart, savvy combination of who-done-it and police procedural."
—Kathryn R. Wall, Author, the Bay Tanner Mysteries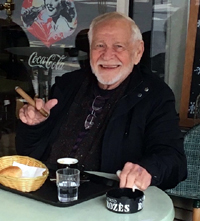 Author photo by: Richard Betrand - Paris
About the Author:
Joseph L.S. Terrell makes his home on the Outer Banks of North Carolina, his native state, where he continues the craft of fiction-writing—with a little fishing, golfing and boating thrown in.
Website: www.josephterrellwriter.com.
Books by Joseph L.S. Terrell:
Jonathan Clayton Novels
THE OTHER SIDE OF SILENCE
LEARNING TO SLOW DANCE
Harrison Weaver Mysteries
TIDE OF DARKNESS
OVERWASH OF EVIL
NOT OUR KIND OF KILLING
UNDERTOW OF VENGEANCE
DEAD RIGHT RETURNING
THE LAST BLUE NOON IN MAY

Community Theater Mysteries
Stand alones
A TIME OF MUSIC, A TIME OF MAGIC
A NEUROTIC'S GUIDE TO SANE LIVING
THE LAST BLUE NOON IN MAY
Author: Joseph L.S. Terrell
First Edition
5.5"x 8.5" Trade Paperback
136p; Retail $14.95US
Retail: $14.95US
ISBN 978-1-62268-125-9 print
ISBN 978-1-62268-126-6 ebook
LCCN 2017943765
book details
read an excerpt
cover detail
buy the book >>>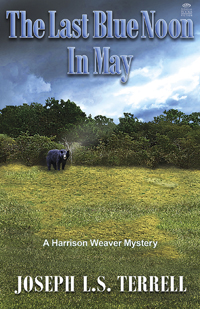 To purchase from your local independent bookseller click here:


Purchase at amazon.com


Purchase at barnes&noble.com


Purchase at booksamillion.com:


NOTE TO BOOKSELLERS:
All Bella Rosa Book titles are available through
Ingram, Baker & Taylor, Brodart Company, Book Wholesalers, Inc. (BWI),
The Book House, Inc., and Follett distributors.

Booksellers, Schools, and Libraries can also purchase
direct from Bella Rosa Books.
For quantity discounts contact sales@bellarosabooks.com .