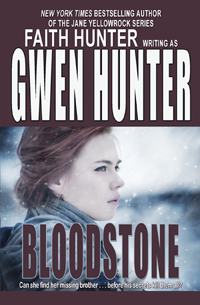 book details >>>
read an excerpt
cover detail
buy the book


BLOODSTONE
Author: Gwen Hunter (aka Faith Hunter)
Reissue Edition
Retail: $15.95US
5.5"x 8.5" Trade Paperback
ISBN 978-1-62268-081-8 print
ISBN 978-1-62268-084-9 ebook
LCCN 2015934287
---
An attack at a trade show.
A ransacked hotel room.
An ominous message on her answering machine.
The threats come out of nowhere.
And they cannot be ignored.
Tyler St. Claire has long tried to disregard her family's "gift" of second sight, but when she learns of her older brother David's mysterious abduction, she begins to understand that she can no longer afford to deny her legacy. Instinctively she knows that there is a connection between her family's uncanny abilities and David's disappearance.
Grudgingly accepting the help of Evan Bartlock, an off-duty cop, Tyler uncovers information on a shadowy organization that once employed David. Now Tyler must trust her family, her friends and, most of all, herself to unlock a dark web of conspiracy and murder—and confront an enemy who "sees" as well as she does.

- - - - - - - - -

Fast-paced, action-packed and often humorous, this is a one-of-a-kind story. Tyler is a special heroine and Evan is her match in every way. One can only hope there will be future adventures to savor.
—ROMANTIC TIMES MAGAZINE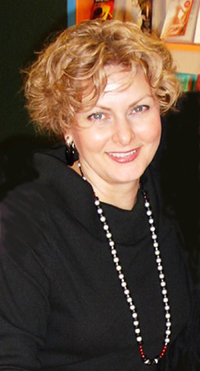 About the Author:
Under the pen names, Gary Hunter, Gwen Hunter, and Faith Hunter, the author writes action adventure, mysteries, thrillers, Fantasy and Urban Fantasy with over 37 books in print in 30 countries.
Along with eight other writers, Hunter participates in a writing forum called www.magicalwords.net, geared to helping writers of fantasy and other genres.
Hunter was born in Louisiana and was raised all over the South. She fell in love with reading in the fifth grade, and loved Si-Fi, fantasy, thrillers, and gothic mystery, with a secret passion for romance novels. She decided to become a writer in high school, when a teacher told her she had talent. She now writes full-time and tries to keep house, is a workaholic with a passion for travel, jewelry making, whitewater kayaking. She and her husband love to travel with their dogs in their RV to rivers all over the Southeast.
For more information please visit www.faithhunter.net, www.gwenhunter.com, and www.magicalwords.net.
And on FaceBook:
www.facebook.com/#!/gwen.hunter1
www.facebook.com/official.faith.hunter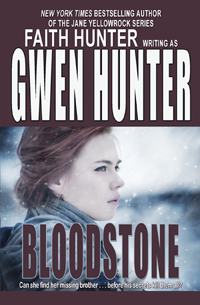 BLOODSTONE
Author: Gwen Hunter
Reissue Edition
Retail: $15.95US
5.5"x 8.5" Trade Paperback
ISBN 978-1-62268-081-8 print
ISBN 978-1-62268-084-9 ebook
LCCN 2015934287
buy the book >>>
read an excerpt
book details
cover detail

To purchase from your local independent bookseller click here:


Purchase at amazon.com


Purchase at barnes&noble.com


Purchase at booksamillion.com:



NOTE TO BOOKSELLERS:
All Bella Rosa Books titles are available through Ingram, Baker & Taylor, Brodart, Follett, BWI, The Book House, Inc., Emery-Pratt, Ambassador Books.
Booksellers, Schools, Libraries, and individuals can also purchase direct from Bella Rosa Books. For quantity discounts contact sales@bellarosabooks.com .